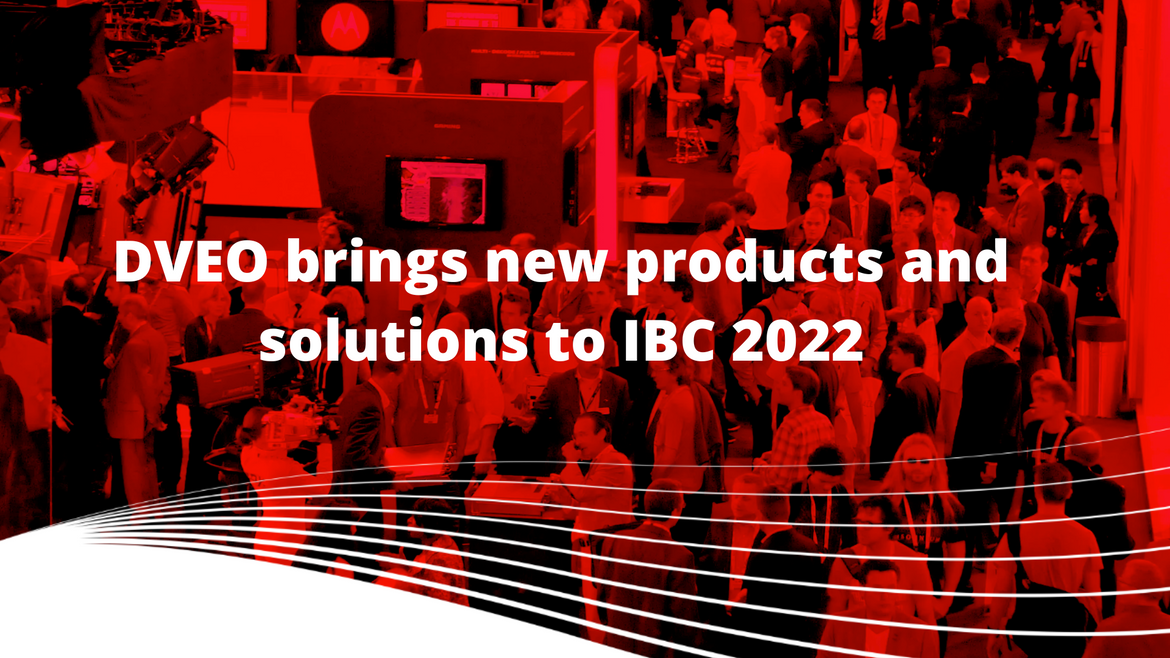 DVEO brings new products and solutions to IBC 2022
IBC2022 will be the venue where DVEO, a global leader in the development of broadcasting and streaming hardware, middleware, and cloud solutions, will present its most recent product developments (RAI Amsterdam, September 9-12). The newest and most cutting-edge additions to the company's lineup of broadcasting and testing hardware, as well as the ever-increasing focus on cloud-based solutions for digital streaming, will be the focal points of the next trade exhibition.
"We are happy to be back at IBC. Even more so with so many new solutions," said David Vargas, the new CEO of DVEO. The company's CEO stated that "it will be very beneficial to be able to see customers and partners, besides promoting our new products."
DVEO's new products and solutions include new technologies such as ad insertion, higher capacity and energy-saving transcoders, as well as new versions of decoders and encoders.
Introducing Novel Decoders and Encoders
Because more and more material is being streamed, businesses have an increasing need to discover solutions that can manage encoding and decoding activities in an effective manner. Visitors to the DVEO booth will have the opportunity to view the D-STREAMER, which is a 1 RU Server, Windows App, H.264/AVC, H.265/ HEVC, MPEG2 video, and multi-channel audio decoder with closed captions for receiving live streams with IP Input.
A 1-8 Channel SDI to H.264/AVC, H.265/HEVC, and MPEG2 encoder for Windows with multiple audio tracks, closed captions, and SCTE35 insertion via IP, Premio is available as new option for DVEO's encoders.
AdSerter: Optimizing ad insertion
The AdSerter is one of the new products that DVEO is offering. The apparatus integrates advertisements and video clips, as well as logos, graphics, text, and scrolling text, into live video feeds according to a predetermined timetable or in response to signals such as SCTE-35. According to Mr. Vargas, "The AdSerter was developed for professionals who are ready to shift to a strong server that can provide them all that is needed to handle a large number of channels in a single box."
Brutus GPU Eco: Better performance with low power consumption
The Brutus GPU has received an upgrade with the goal of improving its sustainability. Brutus GPU Eco ensures that the process of transcoding up to 80 channels may be completed while consuming no more than 120 watts of power. It is designed to be scalable, easily adaptable, configurable, and upgradeable in the field to fulfill the demands of broadband network operators who are now more than comfortable with appliances that are based on Linux®. 
Visitors can register for a free entrance to the exhibit hall at https://show.ibc.org/registration.
SERVICE 
DVEO at IBC2022
Hall 5 - Booth 5.F41
Amsterdam, The Netherlands
September 9-12
ABOUT DVEO & STREAM REPUBLIC
With over 30 years of offering solutions in the broadcast industry in conjunction with the newly merged Stream Republic, DVEO is now serving over 26 countries worldwide (14 countries in Latin America alone). 
More information on DVEO's full line of products is available at
www.dveo.com