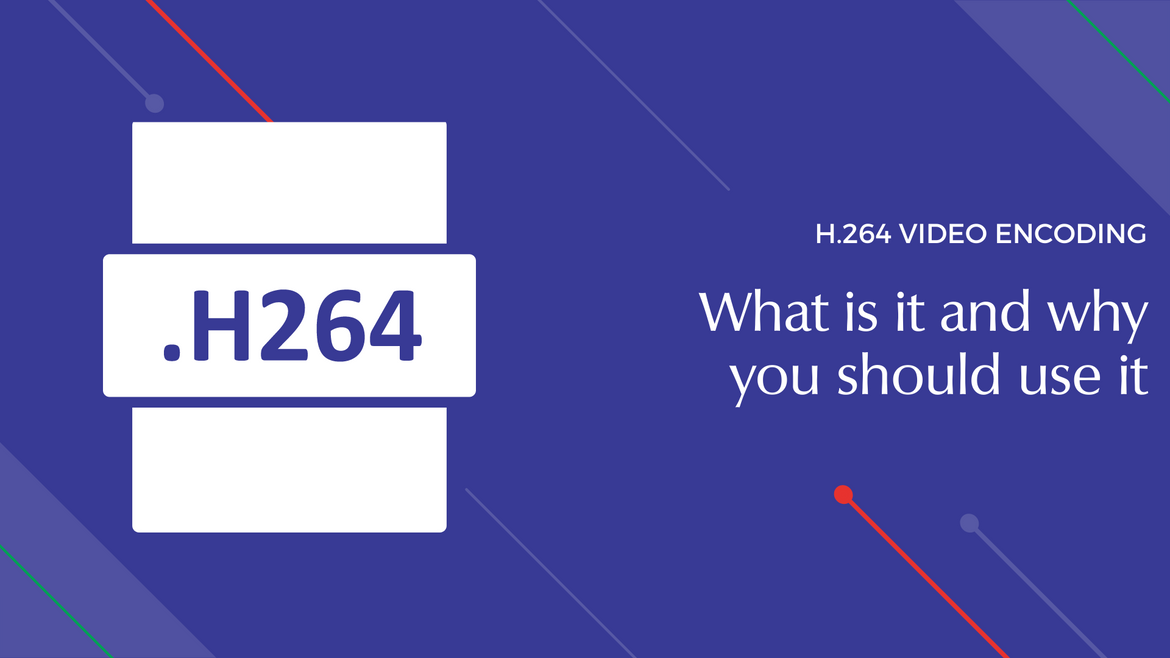 H.264 video encoding: what is it and why you should use it
When it comes to streaming videos, codecs and compression standards are crucial. 
Even though there is a large range of codecs available, it is important to pick one that provides either higher image quality or a lower compressed bitrate for optimal streaming results. H.264 is a codec combining both advantages into a single, widely supported file format. 
​​What is H.264?
H.264 is a video compression standard that lets you record, compress, and share online videos. H264 is also called Advanced Video Coding (AVC) or MPEG-4 Part 10 and is the most widely used codec in the world. It was created by the International Telecommunications Union and the International Organization for Standardization, both of which are based in Switzerland.
This video codec lets you stream high-quality video at much lower bitrates than other standards, like MPEG-2, H.263, or MPEG-4 Part 2. It does this without making things so complicated, too expensive or hard to use on a large scale. 
And if you are not familiar with the words "video codec", here is a brief explanation: video codec is a piece of software that takes the data from the videos you upload and encodes it into the different formats that your viewers will use to watch on their own devices. It also shrinks the size of the content, which makes it easier to stream and store. 
How does H.264 work?
To analyze and process video frames, the H.264 video codec uses a block-based standard with motion competition. The H.264 encoder makes a bitstream by making predictions, changing the data, and encoding it. During the process, the encoder makes several macroblocks (16x16) and splits them into smaller prediction blocks for transport. When these blocks get to the decoder, it puts them back together and gets ready for playback.
It is highly recommended for recording, compressing and sharing video files on any streaming device, such as laptops, smartphones, desktop computers, tablets, smart TVs, and gaming consoles. H.264 is also used to distribute videos offline (on cable TVs for example).
Advantages of H.264
It

uses less bandwidth

and lets you monitor at a higher resolution. It can send high-quality, full-motion video with less bandwidth and less delay than older video standards like MPEG-2. H.264 uses a codec that works well, gives high-quality images, and uses as little bandwidth as possible. 

Lower bitrate

than other formats. It has a bitrate that is 80 percent lower than Motion JPEG. Compared to

MPEG-2

, it can be cut by 50% or more. For example, H.264 can improve the quality of an image while keeping the same compressed bitrate. Even though the bitrate is lower, the image quality is the same. 

Reduced need for video storage

. It reduces the size of digital video files by 50 percent and uses less space to store video than other standards, which are important for making video transmission over IP faster and easier. It offers clear, high-quality video at a data rate of ¼ (half the size of other video formats). 

H.264 is more efficient

because it is twice as fast and has a file size that is three times smaller than MPEG-2 codecs. Because of this codec, video content can be sent over a small bandwidth. 

It

works well with slow-motion video content

.
Are you looking for an all-in-one device? Try
DVEO Streaming Solutions
. You get access to all the tools you need. Contact us at info@dveo.com or
click here
.