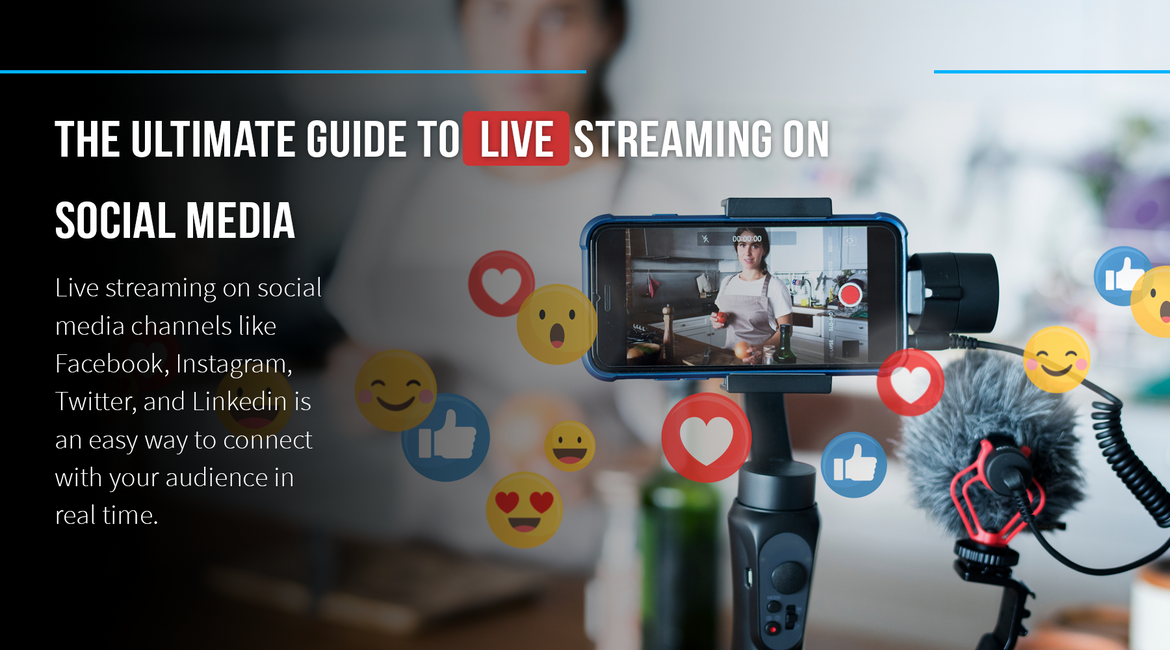 The ultimate guide to live streaming on social media
Live streaming on social media channels like Facebook, Instagram, Twitter, and Linkedin is an easy way to connect with your audience in real time. It may be used to advertise a company or service, engage a specific audience, or conduct a live discussion. 
Streaming on social media has several advantages. Three of the most essential benefits have been pared down for the purpose of conciseness: 
For your audience, live content is a need. In fact, 82% of people prefer live video over social media postings from a company, therefore it's safe to assume that they enjoy live content. 

Streaming your content on social media allows you to develop stronger interactions with your audience and enhance brand exposure. How? Real-time displays of your company's human side. 
Increasing your conversion rate is easier when you're broadcasting in real time.
It's a win-win situation for small companies and entrepreneurs!
How do I go about setting up a live stream? 
It's a good idea to invest in the following equipment after you've got some experience with social media live streaming: 
Sturdy tripod 
Microphone 
Lighting that is appropriate 
Check our bundle solutions for streaming on Twitch and other social media!
How to make a live streaming on social media 
As you'll see in the next stages, most social networks make it simple to go live. The actual issue is: where should you live stream? 
Twitch, Facebook, LinkedIn, Instagram and TikTok all have their advantages and disadvantages. It's more difficult to make decisions when you're dealing with several platforms, each with their own audience and benefits. The good news is that there are two options: you may go to where your largest audience is or maybe you can use simultaneous broadcasting. It's totally up to you!
How to go live on Twitter
There's a lot of opportunity to connect with individuals on the bluebird platform if you've got a super-engaged following base. 
Step by step, you'll go online in no time. 
Go to your composer's interface and click on the camera button (where you write tweets).

Press the Live button in the lower-right corner.

If you're going to interview someone or co-host a live broadcast, you'll want to tap Invite guests.

Hit Go Live.
You have six hours to stream on Twitter. However, you may always halt your broadcast by clicking on the stop button at the upper left of your screen. 
How to go live on Instagram
You don't need to be an Instagram expert to go live on the platform. Three easy steps to going live on Instagram:
Open your camera by swiping right in the app.

You may choose "Live" from the drop-down menu at the bottom of the screen.

As soon as you're ready to broadcast, click Live. 
A wide range of choices are available. As an example, you may direct message a friend, add a co-host to the stream, apply filters to your live feed, and post featured questions to encourage viewers to interact with you throughout the live video broadcast.
How to go live on Facebook
Facebook live videos get a huge amount of attention. Even with Facebook's staggering 2.7 billion monthly active users, you have no excuse not to start streaming on Facebook now.
To begin, follow these instructions:
→ Stream live from your company's Facebook page: go live by selecting "Post" and then "Go Live". You'll also have the opportunity to provide a brief summary of your broadcast in order to assist viewers who are unfamiliar with the platform. In addition, by touching on the three dots, you may choose your audience (check them at the top right of your screen). 
→ Go live from your Facebook profile: go to your newsfeed and choose "Live." You'll also be able to choose your audience and may even let your followers know when you're online by sending them a notification.
When your Facebook stream stops, it will remain in your feed as a video post, allowing you to attract new viewers long after the broadcast has concluded. 
Tip: be sure to give each of your Facebook broadcasts a title that is at least 255 characters long!
How to go live on LinkedIn
Live streaming on LinkedIn isn't as straightforward as picking a few settings and broadcasting immediately. Instead, you'll have to put in some effort — asking you to complete an application form for approval and requiring at least two monitors or separate browser windows to manage the comments as you stream. 
Once your application has been accepted, you'll get a notification!
These are the next actions to take: 
To broadcast on LinkedIn, you must first register a third-party broadcasting tool.

In your third-party tool, press the broadcast button.
Afterwards, it'll remain on your LinkedIn stream, increasing exposure. 
How to go live on Tiktok
Because of its focus on short-form video, TikTok has quickly expanded to include more than 800 million monthly active users. 
Here is what you need to do:
You'll find a "plus" symbol at the bottom-center of your display.

Press the Live button.

When you're ready to begin streaming, press Go Live and give your broadcast a name (maximum of 32 characters). 
But, hold on. Select the Filters and Smooth buttons above the Go Live option if you'd want to experiment with TikTok's filters.
It's worth reminding you that to go live on Tiktok, you need at least 1,000 fans.
How to go live on Twitch
Twitch become the place to be in 2021. Even for gaming, music or just to chat with your audience, you can start to stream at Twitch in a few steps.
To begin, follow these instructions:
Check the Community Guidelines

fully. Twitch have strong polices to go live.

Think about your set-up! Check our solutions here.
Set-up Twich Studio and add the right extensions for you channel. This will help you to enhance and engage your community. 
You a good to go! 
With you need any help to make your stream on social media happen, we offers the right
equipment for streaming 
to you. Take a look in our
bundle solutions
here.